what you need to do
"Ideas won't keep. Something must be done about them" - Alfred North Whitehead, Mathematician
With luck you've received a few new ideas in reading this post, and you're growing convinced that psychological safety is a worthwhile pursuit. Ideas are common. Execution is rare. With that in mind we now turn our attention to helping you implement safety within your teams and this is a matter of doing three things: Establishing Purpose, Redefining Failure and Understanding Conflict.
Establishing Purpose
We've already discussed the motivating power of fear and how it is hardwired into every member on your team. Establishing safety is therefore all about changing their relationship with fear. Over time, and with practice, you will all learn how to alter your responses to workplace triggers, collectively reducing the feeling that someone is taking an interpersonal risk by adding their perspective. Much of the mechanics of this will be covered below when we discuss Failure and Conflict.
You need a catalyst to get started however. Most teams are full of people who very much do feel they are taking an interpersonal risk by speaking up. The first step in establishing safety is to help provide incentive for them to override that first pang of anxiety or insecurity. You must find a way to make the interpersonal risk you are asking them to take by speaking up seem small, and therefore less meaningful, in comparison to something else. You will have that catalyst once you establish Purpose.
Purpose is the extent to which people experience life as being directed and motivated by valued life goals. By definition purpose should be considered something 'bigger' than the individual. Establishing it within a team requires the "3 D's".
- Desirable:
Your team must be making an impact that goes beyond generating a profit. Realizing this impact must be meaningful enough that your people are willing to set aside the fear that drives their impression management once they realize it is getting in the way of the team accomplishing this larger goal.
- Difficult:
You must clearly state how delivering on this stated mission will not be easy. You must show that the only way to overcome this difficulty is through vigilance, that even one missed opportunity to contribute to the mission has a consequence. By showing how even a single act of silence can ensure the purpose is not achieved, your team members will be able pause every time their interpersonal fear pops up, refocus, and act appropriately.
- Determination:
Desirability and Difficulty can now be converted into Determination. You have successfully helped your people see their interpersonal fear as small in comparison to the chance of your organization's purpose going unfulfilled, therefore allowing them to overcome this now smaller fear by focusing on contributing to the mission.
Dr. Edmondson speaks often of psychological safety in healthcare settings and we find these examples to be incredibly instructive. Say for instance a nurse witnesses a doctor making someone feel foolish when they asked a question. Later, the nurse is assisting the doctor with a patient and sees that the doctor is about to administer an incorrect dosage of medicine. The nurse wants to say something, but feels unsafe doing so based on what she witnessed the last time someone asked the doctor a question. So, rather than speaking up, the nurse rationalizes silence by assuming the doctor must know what she is doing, after all she went to school for longer than the nurse and has been in her position at the hospital for a long time. Unfortunately, the nurse was correct, the dosage was wrong, and the patient's health is put at risk as a result. Here the nurse's fear of being made to look ignorant or incompetent overrode the impulse to give feedback to the doctor, resulting in harm befalling the patient.
Establishing Purpose helps build a foundation to prevent this. Had the leader of this team clearly stated that the purpose of their work was to save lives (Desirable), that saving lives would be hard because of the long hours worked leading to lapses in attention and the chaos of the hospital leading to distractions (Difficult) and that because of this everyone needed to be vigilant in spotting errors that they may not be aware of, the reality of harming a patient is positioned as much larger than the fear of being made to look foolish. This would have helped the nurse to override the fear of the interpersonal risk needed to question the doctor about the dosage (Determination) as the nurse would not be risking her own image so much as she would be refusing to allow the mission of saving lives to be compromised.
Again, we find the healthcare examples instructive because it's easy to see 'saving lives' as a meaningful purpose. You may not have the luxury of your purpose being as easy to spot based on your industry. That doesn't mean your company lacks purpose, nor does it absolve you of the need to discover it. If you're struggling right now to figure your what your purpose is you may find some insight here and here .
Redefining Failure
While Establishing Purpose may be effective in getting people to speak up initially, the response they receive will determine if they continue to speak up when needed. It is not enough to merely leverage fear in a healthy way to help people overcome their interpersonal risks, you must also work to reduce the fear of taking that risk over time. One way to do this by Redefining Failure.
Remember back to the terminology section when failure was defined as "an inability for a team or an individual member of that team, to deliver upon a desired or intended objective". The takeaway from this was that without context, failure can quickly grow to be seen as a universally 'bad' thing, causing team members to both avoid it as well as hide instances of it, for fear of repercussion. Hiding any information, including failure or information of a pending failure, is a suppression of feedback, something we are trying to eliminate by establishing psychological safety.
Redefining Failure, provides the context needed to prevent it from being avoided outright. To do this you need to know the three types of failure, as well as the optimal response each requires to keep failure from being seen as something harmful.
Safe teams meet Avoidable Failures with Education:
An Avoidable Failure is defined as a deviation from a proven or accepted process or system. It is caused by a lack of attention or skill, or often a behavioural blindspot.
The response to this must be Education. You must address the lack of skill or attention by showing the person who committed the failure what they should have done instead, along with how to do it and why it matters that they do it this way. Addressing blindspots is a matter of growing this person's emotional intelligence, again something that very much can be taught.
Novel failures must be met with investigation:
A Novel Failure is defined as an accepted process or system failing when exposed to a new or unforeseen variable. It is caused by a deficiency in the process or system itself as opposed to the person executing it.
The response here must be Investigation. You must learn where the cracks in the process are so that you can correct them and prevent this type of new failure from occurring ever again.
Exploratory failures must be met with celebration:
An Exploratory Failure is an unsuccessful trial. It is the result of experimentation and calculated risk taking.
The response here must be Celebration. Every failed trial results in learnings that make future trials better. You must create an excitement when it comes to exploring new work to continue to foster the type of innovation we have already established as critical. You do this by celebrating the outcome, no matter what that outcome is.
Remember: Education, Investigation, Celebration but never Condemnation. Failure cannot be seen as a bad thing if you want your people to try new things and be forthright with you when other things are not going as planned. Avoiding surprises is paramount and by now you should see how safety and surprises are opposing forces. If your people know they will be met with one of the first three words above and never the fourth, slowly but surely you will begin to reduce the fear that's attached to failure.
Understanding Conflict
It may sound counter intuitive but when it comes to creating a healthy workplace, conflict is an essential ingredient. To understand why, let's look at growing psychological safety in your team as if your were trying to grow your own physical fitness.
Similar to physical fitness, psychological safety is not something to be achieved it is something to be maintained. Suppose you are out of shape. You begin a workout regimen & diet and slowly but surely your fitness level begins to improve. If you were to stop going to the gym, and were to start routinely cheating on your diet, it would not take long before your fitness began to suffer, and all of the ills that come with poor fitness begin to impact you again.
Growing psychological safety in a team is very similar. It requires the same daily focus and vigilance and is subject to the same decay soon after you stop. All we are hoping to propose with this post are the "sets & reps" that if executed, will ensure a high degree of safety is maintained once established. Our aim with this is to demystify 'the workout' in the hopes it helps you actually stick to it.
Now when you exercise, you are putting your body under strain. The resistance you feel when lifting a weight taxes the muscle. Your muscle's response, assuming it gets the rest and nutrition it needs post-exercise, is to grow stronger in order to handle this resistance in the future. Workout consistently and increase the resistance progressively and the muscle will continue to respond by getting stronger and stronger.
Within your team, conflict is the resistance. Growth comes from the tension of ideas being challenged.
Remember our tagline all the way back at the beginning of this post? Psychological safety is not the absence of conflict, but rather the ability to have it in a safe way. Conflict is essential because if you are not having it, you're not growing, and in business, if you're not growing you're dying. Psychological safety simply creates the environment that allows for that growth to happen 'without injury'. It's like an automatic spotter that never leaves your side. (Extending this analogy, consider Servant Leadership to be the equivalent of the best performance enhancing supplement in the world).
That doesn't mean you should start courting conflict blindly. If you were committed to growing your physical fitness you would design the right workout so that A) it was optimized to help you reach your goals and B) so that you didn't hurt yourself by lifting beyond your means. So too you must 'design conflict' and the elements of that design are: Conflict Types and Conflict Norms.
Conflict Types
Back in the terminology section we defined conflict as any disagreement that occurs between two or more people and stated that there were two types: Task Conflict and Relationship Conflict.
Task Conflict is any disagreement about the goal or the content of the work while relationship conflict covers all other instances of interpersonal conflict.
When you begin openly discussing failure in your team, no matter how well you position it, conflict will occur. Similar to failure, we do not want conflict to fall into the trap of being universally viewed as a 'bad' thing or it will be avoided outright. Avoid conflict entirely and you will rob your team of the resistance needed for growth. Therefore, as with Redefinding Failure, conflict must be repositioned within your team. It must become normalized. You do this by establishing rules (Conflict Acceptance) and setting expectations (Resolution Potential).
Conflict Norms
Normalizing conflict is a proactive measure. It requires setting very clear rules and expectations relative to conflict and sharing them across the entire team.
Conflict Acceptance:
As referenced in the terminology section, high performing teams have high acceptance of task conflict and low acceptance of relationship conflict. Again this means everyone expects their work to be questioned (people proactively agree to set aside defensiveness when it comes to their work), yet the team has zero tolerance for personal disputes (the second conflict feels personal, the team agrees to shut it down). Essentially work and training are done to ensure that everyone can tell the difference between, "I don't like that idea", versus, "I don't like you because of your idea".
The simplest way to think of this is to view conflict like cholesterol; there is good cholesterol and bad cholesterol. If you don't have enough good cholesterol, you have a problem. If you have too much bad cholesterol, you have a different problem.
If you don't have enough task conflict in your team you are running the risk that feedback is being limited and innovation and productivity will suffer. If you have too much relationship conflict, you are running the risk that fear will take over and psychological safety will suffer. As a leader, you must understand the difference and ensure the right mix.
Resolution Potential:
One of the ways to do this is to ensure everyone knows that no matter what type or amount of conflict happens within the team, you will not let it spill over into something truly detrimental.
Once again, resolution potential is the degree to which a team believes that conflict can be resolved when it occurs. It's the workplace equivalent of agreeing to 'never go to bed angry'. The more confident a team is that the team has the tools and desire to address any form of conflict when it occurs, the more comfortable they are having it because their fear of it has been successfully neutralized.
Once you help your team understand conflict, they can begin to court it, and once that happens, and happens safely, you will have all of the growth you can possibly handle.
Focus on Your Trajectory, Not Your Results
To review, healthy conflict is an essential element of a team's ability to innovate and given that every company needs to innovate to survive , every team must learn how to have conflict. Psychological safety is simply one element that allows for it to happen as often as it needs to. Understand that your company is the product of the compound effect of every decision made, by every person you employ, over every minute they are with you. To illustrate this, consider the image below: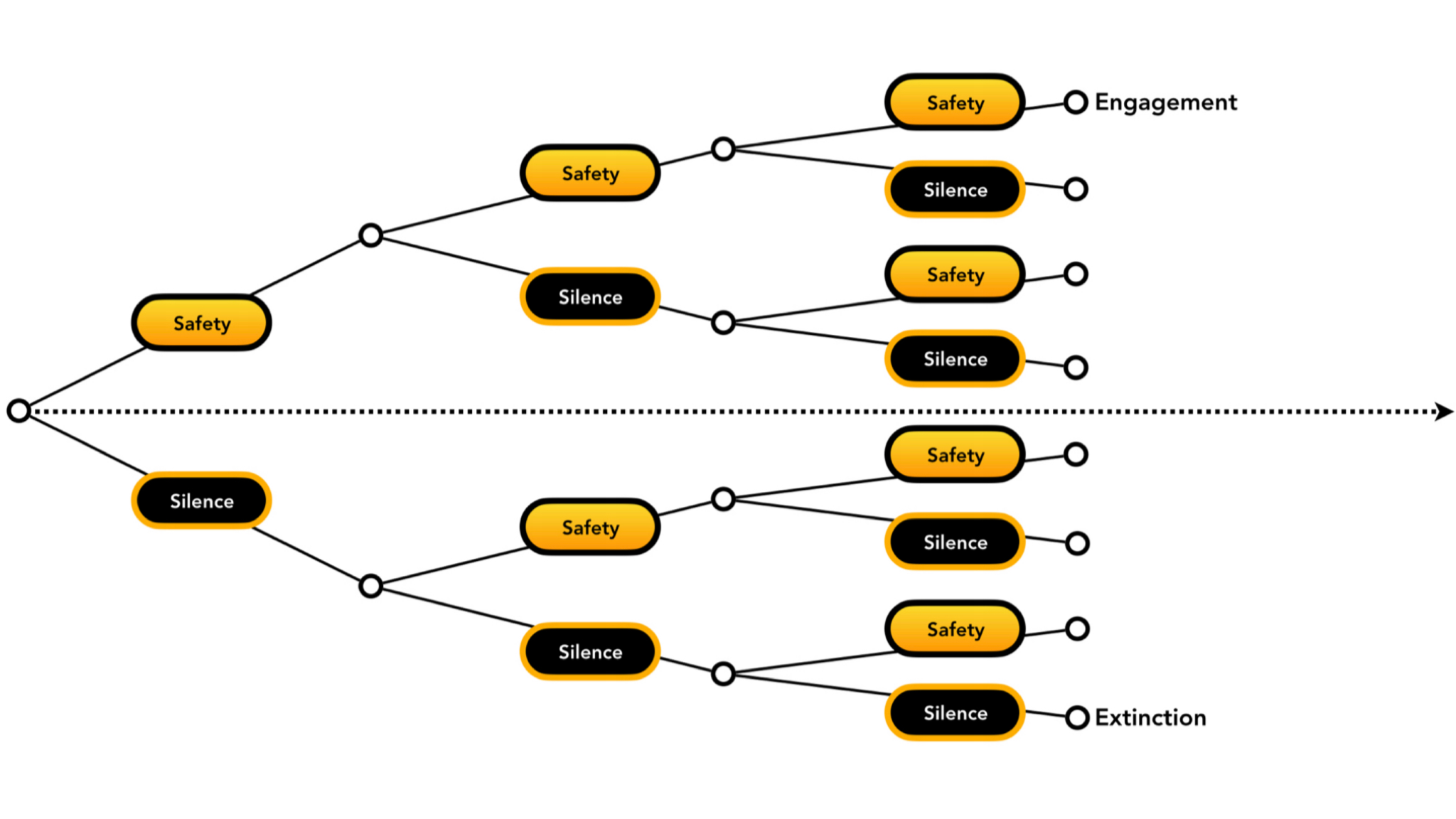 Each small circle represents a moment of conflict. Those who have Safety will use the conflict to propel them higher. Those who embrace Silence will allow conflict to be the reason they take a step down. Given that Safety is not something to be achieved but rather maintained, this 'rise vs fall' choice will occur each and every time conflict emerges. Again, multiply this out over every person on your team, over every day each of them is on that team, over each moment of conflict they may face and ask yourself where you'll wind up. Will your Safety lead to unbridled Engagement or will your collective Silence ensure your eventual Extinction?
Your results explain your past. Your trajectory tells your future. The power to change your trajectory is in your hands.